Long-term rental & digital nomads
Work independently of the place in Crete
Room for up to three people
Sun, beach and a place to work
In the southwest of Crete you can enjoy the sun of the south and work in the calm shade
Leaving the hamster wheel and breaking out of everyday life is not always synonymous with holidays. Digital nomads work where and when they want – keyword location independence. How about a few weeks or months in a holiday home in Crete, where you can work well with fast Wi-Fi in beautiful surroundings?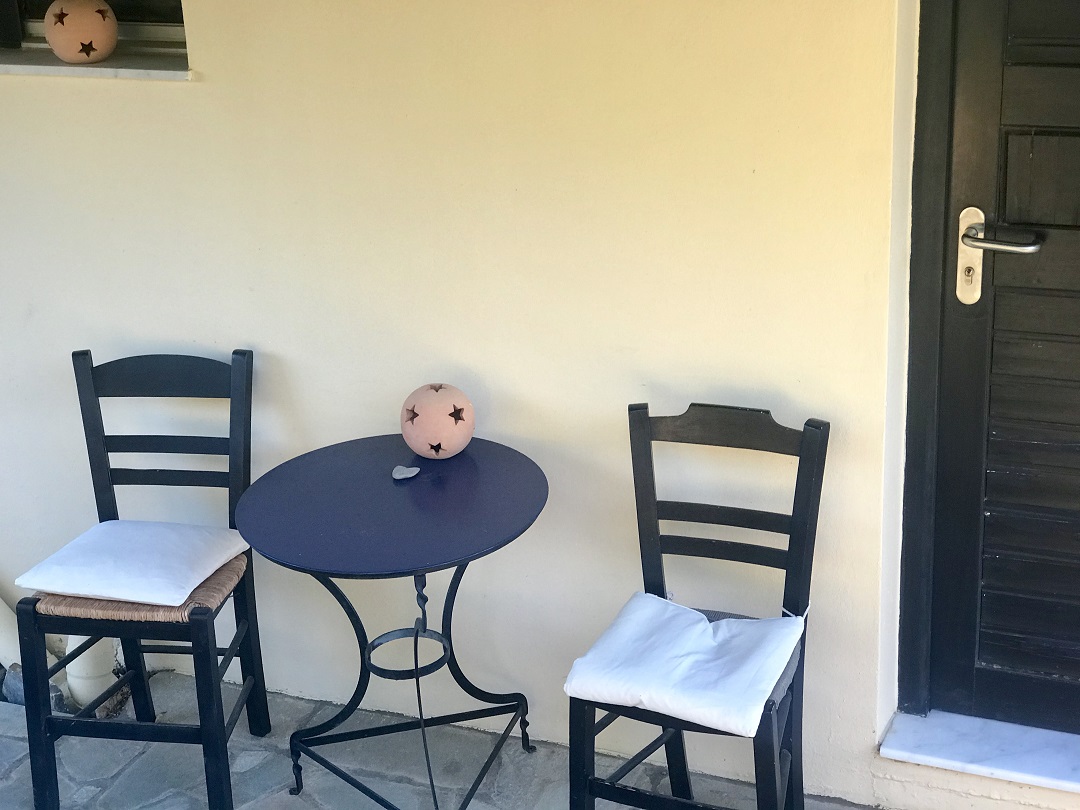 Everything ready
Working and living under one roof
Temporary home: The break holiday home in Crete
The break holiday home on the island of Crete is ideal for digital nomads, freelancers and anyone who wants to combine Greek hospitality, island feeling and productive work. Just arrive, throw on laptop, drink coffee and get into the flow.
The Crete time-out holiday home is suitable for one to three people – ideal for freelancers or self-employed people to co-work, as the open-plan living area is ideal for working together. The semi-detached house is bright and modern and has a huge terrace overlooking the mountain and valley. Because if you stare a lot at screens, you should also let your gaze wander into the distance more often. Through contemplation (and this magnificent view!), we recharge our batteries and create space in the brain for new thoughts and ideas.
Our holiday home is equipped with everything you need for a relaxing stay, even if it is longer-term. A fully equipped kitchen welcomes our guests with a welcome package for the first hunger and thirst, there are two televisions with satellite reception, a bright daylight bath with shower, air conditioning for summer as well as heating and fireplace for the colder months.
There are a total of three sleeping facilities: a large bed for one or two people and a third bed on a plateau connected to the open sleeping and living area. This makes the holiday home especially for digital nomad couples.
Why our holiday home is ideal for working independently of the location
Digital nomads and freelancers appreciate our holiday home very much, because here, in the mountain village of Anidri, they find the necessary peace and quiet to rethink processes, start projects or process orders. We always get the same feedback: Where you were often stuck before, where the routine had a firm grip and where you only worked things bluntly – in Crete it suddenly made "click". We don't even know why: the breathtaking nature that surrounds the holiday home, the Greek olive oil, this very special light or the famous serenity of the Cretan people – it just runs again here.
We are, of course, doing everything we can to ensure that the external conditions are right. These include bright, modernly furnished rooms for a pleasant working atmosphere, fast WIFI as well as enough space on 70 square meters in the house and another 20 square meters on the furnished outdoor terrace.
And if you get stuck and the sparkling thought just doesn't want to come: just put it under the outside shower and cool down – alternatively, drink a glass of Greek red wine by the fireplace in winter.
Digital nomad secret tip Crete: productive working under the Greek sun
It doesn't always have to be Bali or Thailand: also in Europe there are some destinations that are very popular with digital nomads. Greece is on the rise as a destination for non-local freelancers: cheap prices, good infrastructure, pleasant temperatures and great climate even in the off-season as well as good food and very friendly people.
The southern part of Crete is not as crowded with tourists as the rest of the island, which is why you can quickly feel at home here as a digital nomad. There are still "real people" living here who like to share their lives with visitors. While the mountain village of Anidri, where the holiday home is located, promises peace and seclusion, the lively town of Paleochara is just a few minutes' drive away. So here you have everything: breathtaking nature on Greece's greenest island as well as the Cretan lifestyle.
Welcome package on arrival
Water, tea, milk and coffee beans (full automatic coffee machine).
Air conditioning
Air conditioning in the living room/bedroom. Included
Television
On the plateau and in the living/sleeping room there is a TV with satellite reception.
garden furniture
On the terrace in the garden are two sunbeds, as well as an outdoor table and chairs.
Outdoor Shower
An outdoor shower for cooling is located in the garden, next to the terrace.
cleaning set
On arrival, all beds are freshly made. Towels, as well as bed linen are sufficiently available. The cleaning of the house is on departure (included in the price).
Digital nomads love Crete
We hear it again and again: once you have come to Crete, the island will not let go. We have often had holidaymakers who spent a week's holiday here – only to return a few months later for a longer break. Especially when the temperatures in Germany become uncomfortable and you stare into the grey sky for weeks, oh what, for months, is the right time for "vitamin K", as we call Crete with a wink.
There are countless stories of emigrants, part-time islanders or Crete repeat guests. What they all have in common is the desire not only to function in front of themselves, but to enjoy life with all its senses. Because our "Creators on Time" have understood this: only if we are doing well, we can deliver really good work, which makes us proud and offers added value to others.
The holiday home for digital nomads
open plan living room with a wide bed and extra bed on a plateau
Bathroom with natural light and shower
fully equipped kitchen with dining area
2 TVs
Wi-Fi
Cleaning by our cleaning fee included in the price
Air conditioning, heating, fireplace
large terrace with two loungers, table & chairs
Outdoor shower on the terrace
ideal location – only 70 kilometers from the airport in Chania
Beaches & pretty fishing town of Paleochora in the immediate vicinity
And there's also that...
Nature, nature, nature: the mountain village of Anidri is idyllically situated on the slope between mountain and sea
Even if we repeat ourselves: the view from the terrace cannot be mentioned often enough
"Vitamin K": Greek joie de vivre and hospitality
breathtaking sunrises and sunsets
Greek sun and the famous Cretan light in the off-season!
What are you waiting for?
Whether you want to take your creativity and productivity to the next level or just want to get out of the day-to-day routine, we look forward to your non-binding request for a stay in our holiday home. You will see: Here you can not only work well, but at least just as well relax. A. "! – see you soon!